Tiffany Alexandra Knott

Tiffany when she was blonde

Ringname:

Hayley Blossom

Height:

5'3

Weight:

127 lbs

Born:

March 18, 1993 (Age: 20) Stockport Greater Manchester

Billed From:

Manchester, England

Resides:

Louisville, Kentucky

Trained By:

Hannah Blossom


Holly Blossom


OVW Staff

Debut:

March 6, 2013 (OVW)


April 25, 2013 (Impact Wrestling)
Early Life
Edit
Tiffany grew up in Stockport like any normal kid would mostly. While growing up she was half girly girl, half tom boy. When her sisters got old enough, they dragged her around everywhere, even to their wrestling matches which that got Tiffany intrestred in Wrestling.
Wrestling Career
Edit
When Hannah and Holly Blossom got signed to TNA in February they begged Tiffany to be signed to which Dixie, Hulk and Katie signed her right away. She made her debut for OVW in April helping her sisters fend off Taeler Hendrix and Lovely Lylah. She since then Valeted for them until June until she started wrestling and refereeing.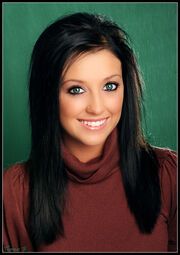 On April 25th Tiffany made her TNA debut as the new Knockouts Referee with her first match being Tara vs. Taryn Terrell which Taryn won. Later on that night Tiffany refereed Christa Sullivan vs. Chelsea Benoit for the Knockouts title which Chelsea won with interference from Ashley Batten. After Tiffany saw Ashley she reversed the decision awarding Christa the knockouts title again. Unfortunately that didn't settle well with Chelsea, Ashley and Sarah Veethorne  so they got in her face. The next week Tiffany refereed the Mickie James/Taryn Terrell vs. Chelsea/Ashley match which Mickie and Taryn won. After that match Tiffany got speared by Chelsea, Ashley did the flying headbutt on her and was put in the Anaconda Vice on her by Sarah.
Everytime Chelsea has had a match, Tiffany has refused to raise her hand until Chelsea or someone else does it.
Personal Life
Edit
Tiffany is the younger sister to Kelly and Lucy aka Hannah and Holly Blossom, She's extremely close to her sisters no matter what. She is also currently dating Magnus.
Siblings: Hannah Blossom (Sister), Holly Blossom (Sister), Chris Sharpe (Brother in law)
Finishing Moves
Edit
The Blossom Bomb (Lifting DDT)
DDT
Diving Crossbody
Wrestlers Managed
Edit
Entrance Music
Edit
Radioactive by Rita Ora (TNA Singles Theme)
How We Do (Party) by Rita Ora (Used When managing her sisters in OVW and her theme as well)
Twitter Account
Edit
Tiffany's Twitter account is @LittleBlossom. She uses it to post updates and pictures mostly.