Selene Martha Hart



Ring Name:

Selene Hart

Height:

5'5

Weight:

115 lbs

Born:

April 22, 1990 (Age 22) Calgary, Alberta, Canada

Billed From:

Calgary, Alberta, Canada

Resides:

Tampa, Florida

Trained By:

Owen Hart


Bret Hart


Stu Hart


Jim Neidhart

Debut:

April 23, 2012 (Raw)
Early Life
Selene is the oldest daughter of Martha Hart and the late Owen Hart. While growing up she wanted to follow in her dads foot steps no matter what. He even trained her when she was still young. When he died though she was depressed and was even more depressed when her mom wanted to keep her away from the Wrestling World so she ran away and moved in with her Uncle Bret.
Wrestling Career
While living with her Uncle Bret she trained with him, Stu and her Uncle Jim. Selene started training with her cousins Whitney and Kaelyn. Unlike them she was the only one out of the three of them who gradulated out of the Dungon. After they got done training they wrestled on the Indy's a bit as The Hart Legacy. They wrestled in Canada mostly until they got WWE Contracts in early 2011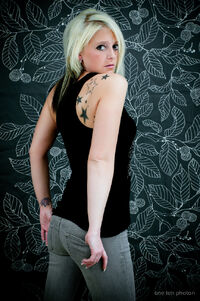 After they got the contracts they reported straight to FCW where her and Whitney mostly wrestled as a tag team and Kaelyn was their manager. They wrestled in FCW Until April when they got called up to the Raw roster. Their first match is Scheduled to beone of the matches in the first round match in the Diva Tag Team title Tournament going against Lindsay Hager and Lira Santiago.
On the April 23rd edition of Raw Selene and Whitney faced off against those two and defeated them. (Whitney and Selene had Kaelyn in their corner)
Personal Life
Selene is the oldest daughter of Owen Hart and Martha Hart. When Selene was 13 years old she went and moved in with her Uncle Bret because her mom was trying to keep her away from the Wrestling World
Selene has a tattoo of a cross on her upper back as a tribute to her dad. She also has a trail of stars going down her right side. She also has a tattoo on her wrist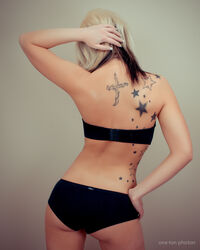 Siblings: Oje Hart (Brother), Athena Hart (Sister)
Family Members: Bret Hart (Uncle) Jade Hart (Cousin) Dallas Hart (Cousin), Alexandra Hart (Cousin), Blade Hart (Cousin), Whitney Hart (Cousin), Diana Hart (Aunt), Harry Smith (Cousin), Georgia Smith (Cousin) Georgia Hart (Aunt), B.J. Annis (Uncle), Ted Annis (Cousin), Matt Annis (Cousin-Deceased), Annie Annis (Cousin) Angelia Annis (Cousin) Allison Hart (Aunt) Lindsay Hart (Cousin), Brooke Hart (Cousin), Bruce Hart (Uncle), Smith Hart (Uncle) , Keith Hart (Uncle), Wayne Hart (Uncle), Jim Neidhart (Uncle), Natalya (Cousin), Joslin Neidhart (Cousin), Kaelyn Neidhart (Cousin), Jennifer Neidhart (Cousin), Kirsten Neidhart (Cousin)
Finishing Moves
Solo
Sharpshooter
Reverse Piledriver
Missile Dropkick
Bridging Northern Lights Suplex
Tag Team
Rocket Launcher (With Kaelyn)
Hart Attack (Bearhug (Selene), Lariat Combination (Whitney)
Tag Team/Stables
The Hart Legacy (With Whitney and Kaelyn)
Managers
Entrance Music
Crawl by Breaking Benjamin (Singles Theme)
Hitman (V2) by Jim Johnston (The Hart Legacy Theme)
Twitter Account
Selene's twitter account is @SeleneMHart. She mostly uses it for updates