Scarlett Sarah Benjamin



Ring Name:

Scarlett Benjamin

Height:

5'7

Weight:

130 lbs

Born:

April 9, 1989 (Age: 23) Indiana, Pennsylvania

Billed From:

Pittsburgh, Pennsylvania

Resides:

Tampa, Florida

Trained By:

Kurt Angle

Debut:

April 10, 2012 (Smackdown)
Early Life
Scarlett grew up an only child to a stay at home mom and a Gym owner. While growing up she helped her dad around the Gym and that's when she met Kurt Angle. After meeting him he trained her for a while before she went on the Indy's
Wrestling/Referee Career
In addition to Wrestling Scarlett worked as a referee too and she was good at it and decided she would want to be one the most. While working on the Indy's she met Libby Matthews and Casey Hall and became fast friends with the duo. While working on the Indy's they met Chelsea Benoit and she offered them WWE Contracts saying that 'The WWE needs referees that are not pussies and not scared to take a hit or two.' When Libby and Casey signed Wrestling Contracts in addition to Referee Contracts Chelsea offered Scarlett a Wrestling Contract and Scarlett said she would take it later.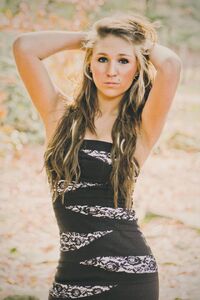 Scarlett debuted on April 10th refereeing the Main Event with was "Mean" Gene Okerlund, Chelsea and Sheamus vs. Daniel Bryan, Alberto Del Rio and Lira Santiago On the April 21st Edition of Smackdown Scarlett refereed the Natalya/Brooke Warner match. Darning the match Brooke went crazy and Scarlett had to pull her off a couple of times before DQing her. On the April 26th Edition of Superstars Scarlett refereed the April/Kimberly vs. Charity/Farrah match which Farrah and Charity won. One night later on Smackdown Scarlett refereed the Victoria/Trinity vs. Taylor/Brooke match which she had to DQ the later team because Brooke went crazy. She also refereed the Kayla/Serena vs the Bella Twins which Kayla and Serena won that match.
Personal Life
Despite being an only Child Scarlett thinks of Libby and Casey as sisters. She also keeps in touch with Kurt Angle
Finishing Moves
Ankle Lock
Intoxicated (Angle Slam)
Entrance Music
Intoxicated by Lacuna Coil
Twitter Account
Scarlett's Twitter account is @ScarlettSarahBenjamin. She mostly uses it to post updates and talk to her friends on there.