Roslyn Sarah Senerchia



Ring Name:

Roslyn Senerchia


Rose

Height:

5'6

Weight:

130 lbs

Born:

July 2, 1988 (Age 24) Massapequa, New York

Billed From:

Brooklyn, New York

Resides:

Louisville, Kentucky

Trained By:

Taz


Samoa Joe


Eric Young

Debut:

July 7, 2012 (OVW)


January 24, 2013 (Impact Wrestling)
Early Life
When Roslyn was growing up she always gotten into fights with everyone because they usually "Annoyed her" She got in trouble with it at first but they eventually paid no attention to her. Darning collage Roslyn decided that she wanted to be a Pro Wrestler so she got her dad to train her.
Wrestling Career
While her dad trained her he got Samoa Joe to train her too. When she was getting trained by them she met Eric Young and he trained her a bit as well. She also gotten very close to him. After she got done training she competed in Various Indy promotions until she was signed to a TNA contract by TNA Vice President Katie Borden.
Roslyn debuted for OVW Saturday Night on July 7th as a face helping Averylynn Sorensen retain her OVW Women's Championship against Taeler Hendrix. After the match Roslyn introduced herself and said that she's tired of Taeler, her bitch Dylan Bostic and the rest of The Family. Especially Josette Bynum. She then Challanged Josette to a match before going to the back with Averylynn.
On the July 14th Edition of OVW Roslyn was seen hiding backstage with Averylynn spying on Taeler, Dylan and Jessie Belle. After Jessie gave Taeler bugs and ran away with Dylan Roslyn and Averylynn came out and comferted her.
Since Avery moved up to the main roster Roslyn continued to mess with Taeler, Josette and Dylan, Even having a match with all three of them (Not at the same time).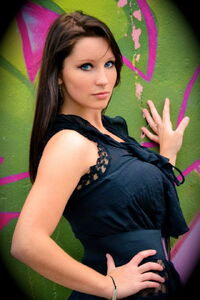 On January 24th Roslyn made her debut on Impact Wrestling under the name Rose. She first confronted Taz at the Commetary table telling him they needed to talk later about him being in Aces and Eights. Next she came out with Katie and explained to the Impact Zone that she was Taz's daughter. Taz then came in the ring and talked down on both her and Katie. Then after he was attacked by Chelsea Benoit the three of them fled the ring but was attacked by the Aces and Eights Knockouts until Chelsea got them with her taser.
Personal Life
Roslyn is the oldest daughter of TNA commatator Taz. She is also dating Eric Young and currently does not like his storyline with ODB
FTW for Roslyn means 'For The Win' unlike her dad which meant 'Fuck The World' for him.
Finishing Moves
Rosemission (Half Nelson Choke with Body Scissors)
Rosemission Plex (Half Nelson Choke Suplex)
Spike Piledriver
Wrestlers Managed
Entrance Music
Just Another Victim by Cypress Hill (OVW Theme)
Part Of Me (Instrumental) by Katy Perry (Used when going out with Averylynn)
Call You Out by Flyleaf (TNA Theme)
Twitter Account
Roslyn's twitter account is @RoslynFTW She mostly uses it to talk to fans and friends and taunt her opponents.