Jodie Catherine Pivarnick



Ring Name

Jodie

Height:

5'1

Weight:

110 lbs

Born:

December 20, 1992 (Age 18) Staten Island, New York

Billed From:

Staten Island, New York

Resides:

Staten Island, New York

Trained By:

FCW

Debut:

March 3, 2011 (TNA)

June 13, 2011 (Raw)
Early Life
Jodie grew up very fond of her sister. So it was no surprise that she always defended her sister from being bullied despite being younger than her. While she was defending her sister she was also training to be a wrestler.
Jersey Shore
Jodie guest starred on Jersey Shore a couple times darning the first two seasons visiting her sister because everyone in the house hated her. Everytime Snooki or JWWow or any other castmate tried being mean to her Jodie always got in a physical fight with them. She stopped being on the show when her sister left for good.
Wrestling Career
Jodie made her wrestling Debut on the March 3rd of TNA Impact with her sister as they challanged Angelina Love, Velvet Sky and The TNA Knockout Champion Ivory Williams the next week her along with her sister and Cookie defeated the team when Jodie did a spinning drop kick on Ivory. TNA Officals were impressed with Jodie's wrestling abilities that they signed her to a deal. The deal didn't last long since she got into fights backstage for people talking bad about her sister. She was soon released.
Jodie appeared on Monday Night Raw three months later in a match against Kelly Kelly successfully beating her. So far she hasen't gotten in any backstage brawls with anyone who talked bad about her sister and is trying to stay professional so she can continue to be in the WWE.
Personal Life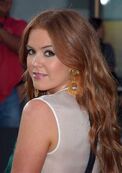 Jodie is the younger sister of former Jersey Shore Star Angelina. The two are extremely close and Jodie will do anything for her
Finishers
Entrance Music
Ghosts N Stuff by Deadmau5 (WWE Singles Theme)
Look Out Weekend by Kid Sister (Feat Nina Sky) (TNA Singles Theme)
Twitter Account
Jodie's Twitter Account is @Jodie25 and she mostly uses it to talk to fans of her and her sister and taunt people who hate them