Jennifer Kayla Reso



Ring Name:

Jennifer

Height:

5'5

Weight:

120 lbs

Born:

November 5, 1989 (Age 22) Kitchener, Ontario, Canada

Billed From:

Toronto, Ontario, Canada

Resides:

Tampa, Florida

Trained By:

Kirsten McCool


Christian


Edge


Ally Copeland

Debut:

September 10, 2010
Early Life
When Jennifer was born she was diagnosed with Heterochromia iridum which met she had two different color eyes but she didn't let it bother her as she thought it was cool. When her brother was wrestling on the Indy's and met Edge and Ally Copeland Jennifer got her interest in Wrestling
Wrestling Career
Jennifer Debuted for WWE on NXT Season 3 with her sister in law Kirsten McCool as her Pro. Darning her time on NXT Jennifer was one of the least popular rookies on NXT but managed to make it to the final three before becoming the third one eliminated. Despite being eliminated Jennifer became a Smackdown Diva two weeks later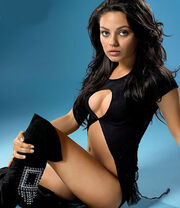 When Jennifer became a Smackdown Diva she helped Kirsten in her rivalry with LayCool with being in a couple of matches with Michelle McCool and Layla with winning all but two. A tag team match and a singles match with Michelle McCool. When LayCool broke up Jennifer was mostly used on Superstars.
When her brother Christian turned heel he approached her for the first couple of weeks and wanted her to turn heel as well but Jennifer kept avoiding him until he demanded she turn. When he did she slapped him and told him that she'll do what she'll want to. She even got on to him for treating all of his friends and family like crap and even agreed with Edge about him being a whinny bitch.
After being involved with Christian Jennifer was mostly used on WWE Superstars and NXT Until the December 23rd episode of Smackdown where she teamed up with Ally to take on Joslin Neidhart and Lauren Kocianski. After the match which they won Ally and Jennifer did a 5 second pose as a tribute to their brothers then they went to the back.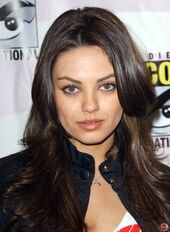 Personal Life
Jennifer is the younger sister of Christian. Despite not caring about her different color eyes she sometimes got made fun for it growing up.
Sibings: Christian (Brother), Kirsten McCool (Sister In Law), Michelle McCool (Sister In Law), Undertaker (Brother In Law), Edge (Step Brother), Ally Copeland (Step Sister)
Finishing Moves
Killswitch
Spear (Used as a Tribute to Edge)
Angel Of Pain (450 Splash)
Entrance Music
Our Truth by Lacuna Coil (September 10, 2010 - November 23, 2010) (Used while Kirsten's Rookie on NXT)
Riot by Three Days Grace (Singles Theme)
Twitter Account
Jennifer's Twitter account is @Jennifer4Fans. She uses it to posts pictures, Answers questions and posts updates.