Brianna Faith Gerdelman



Ring Name

Brianna

Height:

5'6

Weight:

120 lbs

Born:

October 18, 1990 (Age 21) Palm Springs, California

Billed From:

Anaheim, California

Resides:

Yucca Valley, California

Trained By:

Kazarian


Carrie Wilson


AJ Styles


Christopher Daniels


Samoa Joe

Debut:

April 23, 2010
Early Life
When Brianna was growing up she did everything with her twin sister. Because of that everyone including her family could not tell the pair apart and that they liked most of time since they could get away with almost everything.
Wrestling Career
Brianna and Britney first started out in FCW after WWE gave them a developmental contract. While in FCW they met Carrie Wilson darning a show and while Carrie was taking a break from Wrestling due to her second pregnancy she trained the sisters as much as she could. A Few months later Brianna and Britney were released from FCW and Carrie still trained them for a while.
When Brianna and her sister debuted for TNA they just mostly wrestled tag team matches mostly and sometimes singles matches. When their brother joined Fortune they payed no attention. Brianna and Britney got title shots here and there but never really got a chance to get the titles until in February of 11
In February Brianna and Britney got into a mini feud with then TNA Knockout Tag Team Champions Alyssa Harter and Lanette Martin for the titles. The Feud ended when Britney and Brianna defeated them for the titles. While holding the titles Brianna and Britney has beat the likes of Madison Rayne and Tara, Winter and Angelina Love and most Recently Rosita and Sarita.
On November 3rd Brianna and Britney Lost the titles to Madison Rayne and Gail Kim.
Personal Life
Brianna is the younger twin of Britney Gerdelman (By 3 Minutes) And is the Younger sister of Kazarian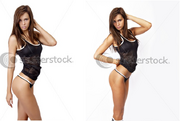 Siblings: Britney Gerdelman (Sister), Kazarian (Brother), Traci Brooks (Sister In Law), Shiloh Brookshaw (Sister in Law)
Finishers
Solo
Unstoppable (Running DDT)
Brianna Tornado (Tornado DDT)
With Britney
Twin Fury (One Twin holds the opponent on their shoulders and the other goes to the top rope and does a flying closeline on the opponent)
Tag Teams/Stables
Title Reigns/Accomplishments
1 Time TNA Knockout Tag Team Champion (With Britney)
Entrance Music
Twitter Account
Brianna's Twitter account is a joint one with Britney @BritneyandBrianna and they mostly use it to post updates and to confuse people for fun.