Athena Alexsandra Bustin



Ring Name

Athena Bustin


Athena B (Used with Robbie E and Robbie T)

Height:

5'4

Weight:

130 lbs

Born:

August 20, 1986 (Age: 25) Jersey City, New Jersey

Billed From

Jersey City, New Jersey

Resides:

Louisville, Kentucky

Trained By:

OVW


Katie Borden


Ivory Williams


Ally Copeland

Debut:

December 22, 2011 (TNA)
Early Life
Athena grew up the oldest out of 3 sisters and always struggled to be the good one but that never worked out because she always got in trouble for being jealous of her siblings. At 18 she ran away and started training to be a wrestler.
Wrestling Career
Athena began working at Ohio Valley Wrestling (OVW) when it was still a WWE Developmental territory. There she met Katie Borden when she worked in the WWE and she offered to train Athena a bit. She also met Ally Copeland and got some training from her and the three became fast friends. She stayed in OVW after Ally and Katie left and it was no longer a WWE Developmental Territory.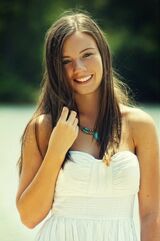 When OVW Became a TNA Developmental Territory Athena was excited because that meant she could be called up to Impact Wrestling at any time and be with her friends again. She was called up by TNA President Dixie Carter and she appeared on the December 22nd edition of Impact Wrestling in a backstage segment with Katie and Ally. Later that night she ran out to the ring with
Shiloh Brookshaw
and attacked Madison Rayne and
Chloe Simmons
. She later appeared in a backstage segment with Robbie E and Rob Terry. She may become their manager.
At Genesis she got into a brawl with Lacey Hellwig after she tried interfering in the Knockouts title match which was Mickie James vs. the Champion Fayne Pfohl. Despite stopping Lacey's interference Fayne retained the title.
Recently she has been accompanying Robbie E to ringside darning his matches and was seen on Xplosion on February 1st when she accompained him to ringside for his match against Doug Williams. She didn't interfere with her being a face and that she didn't want to get in a fight with Doug's Sister Megan Williams.
Personal Life
Athena is the oldest daughter of Jorden and Katina Bustin. She's the Oldest sister of Kelsey and Ellie Bustin. On her 18th Birthday Athena ran away from home because she was tired of her parents telling her what to do. She also found out that her dad molested her at 2 years old.
Despite being from Jersey and almost acting like a Jersey Girl Athena is not a big fan of Jersey Shore at all
Athena has not had contact with her family in years.
Finishing Moves
Jersey Bomb (Powerbomb)
Blackout (German Suplex)
Last Call (Springboard Drop Kick)
Party Rock (Snap DDT)
Entrance Music
Twitter Account
Athena's Twitter account is @AthenaNewJersey25. She mostly uses it for updates and to answer fan questions.